This module can contribute to the following programmes
This is an option module within the MSc Healthcare Practice programme and may also be taken as a free-standing module. The module is for registered nurses and other registered healthcare professionals who wish to become adeptly skilled in the care and management of the service users receiving renal replacement therapy, either haemodialysis (HD) or peritoneal dialysis (PD). It will also enhance knowledge in relation to the pathophysiology and treatment of acute kidney injury. The module will incorporate psychosocial, ethical, legislative, professional guidance and risk management dimensions to provide the practitioner with a comprehensive knowledge of the service users lived experience.
Aims:
The module will enable students to develop an in-depth, critical understanding of the pathophysiology, care and management strategies for people requiring renal replacement therapy.
What and how you will learn on this module
How you will learn:
This module is delivered using a blended learning approach which integrates a variety of on-campus and online activities, supported by Canvas, the University's virtual learning environment. A complementary range of activities are employed to engage you in the critical exploration of key topic areas, and the completion of formative tasks during the module also helps to keep you on track with the learning and gain feedback on your understanding of the content. A sense of community is developed and maintained with frequent opportunities for peer learning, enabling you to share your practice experiences and to learn from each other. Level 6 and level 7 students taking this module may be taught together.
Academic writing and critical thinking skills are developed through 'The Critical Thinking Skills Toolkit' and other academic practice activities embedded within the module, that have been designed to nurture the skills needed to facilitate you to become a thoughtful, objective and reasoned thinker. This will help you tackle the assignment(s) confidently, understand marking criteria, use evidence, take a reasoned approach, make structured arguments and engage with other points of view.
What you will learn:
Introduction to Renal Dialysis
• Embedding compassion and evidence into dialysis nursing
• Physiological concepts and principles of dialysis
• Dialysers, dialysate, water and adequacy
• Exploring dialysis options: Haemodialysis, Peritoneal Dialysis and Home Haemodialysis.
Managing Acute Kidney Injury (AKI) and Preparing for Dialysis
• Pathophysiology and medical management of AKI
• Temporary vascular access – insertion, care and management
• Permanent vascular access – formation, care and management.
Complications associated with haemodialysis
• Nursing assessment of the client pre, intra and post dialysis treatment
• Recognition and management of intradialytic complications
• Prevention and management of long-term complication associated with haemodialysis
• Infection control and dialysis: blood borne viruses, MRSA, systemic Infection.
Associated principles of dialysis
• Principles of plasmaphoresis
• Pharmacology: PD and HD
• Renal thirst and fluid management
• Ethics-legal issues related to dialysis treatment.
Dialysis and the lived experience
• Psycho-social issues, challenging behaviours and cognitive impairment associated with dialysis treatment.
• Quality of life and dialysis
• The service users experience
• Comparing dialysis and transplantation.
Peritoneal dialysis
• Principles of PD and anatomy and physiology of the peritoneum
• Preparation of the client needing PD
• Treatment options.
Commencing PD
• Preparation of the client for insertion of the PD catheter
• PD catheter insertion
• Care and education of the client post catheter insertion.
Complications associated with PD
• Management of complications associated with PD treatment
• Microbiology and infection control issues associated with PD
• Professional guidelines for PD treatment.
Academic practice
• Database searching
• Referencing and avoiding plagiarism
• Critical Thinking Skills Toolkit.
Course length: 10 Teaching Days
Assessment
Case Study (4000 words) and Competency assessment document
Demonstrate critical analysis of evidence-based knowledge by documenting precisely, a comprehensive assessment, intervention and evaluation of dialysis treatment for the client in established renal failure and the client with acute kidney injury.
Autonomously implement and evaluate innovative best practice in the assessment, planning, implementation and evaluation of interventions for clients in established and/or acute renal failure.
Use critical personal reflection to improve practice and incorporate personal responsibility and the professional code in terms of delivering efficient, effective and safe dialysis treatment to the client group.
Incorporate a critical ethical dimension to the care and management of service users on dialysis and work proactively with others to formulate solutions.
Critically examine and evaluate the effectiveness and application of research findings and guidance for advancing dialysis practice.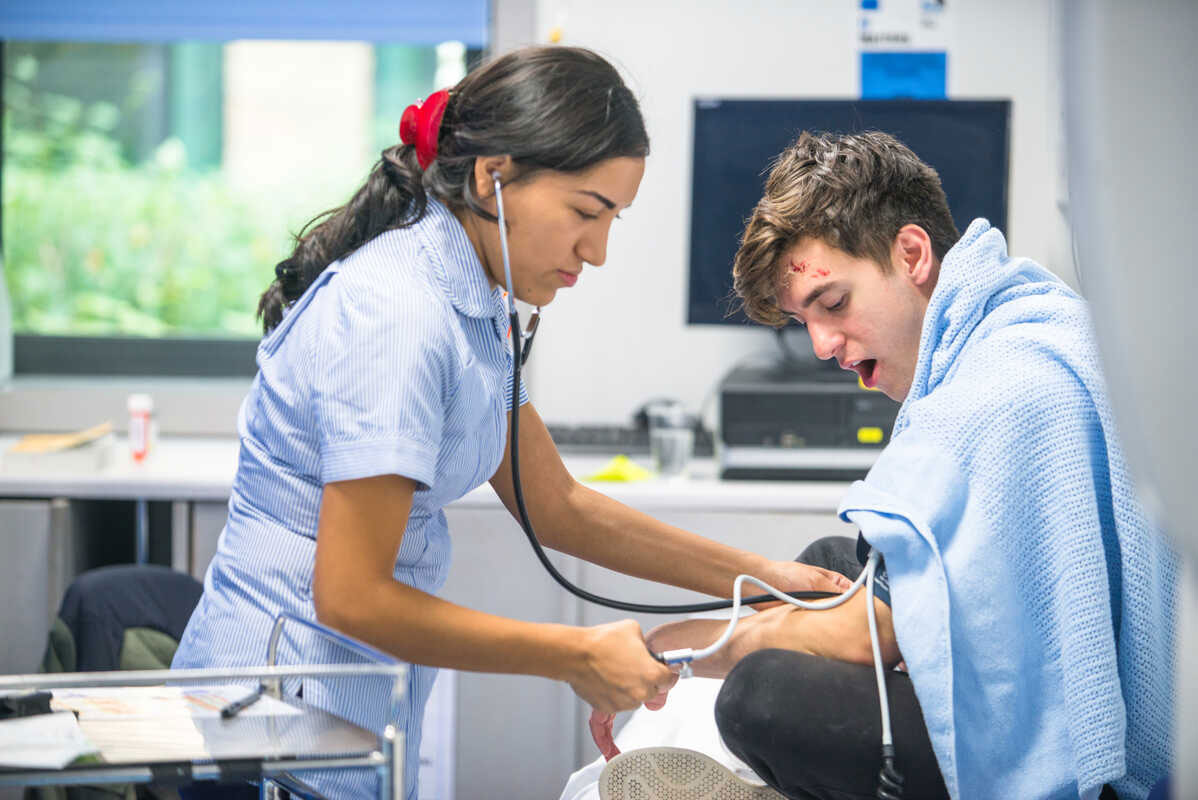 Kingston WFD Admissions Team
Blended Learning. On-Campus sessions subject to change. If government advice changes, we may need to update our plans. If we do so, we will update this information, and will keep current students and offer holders informed by email.
Programme entry requirements.
Students should have minimum of 6 months' recent experience of caring for renal service users.
Co-requisites: Students should work in an appropriate clinical area caring for renal service users
Self-funding students will need to make a one-off payment for the module via our secure payment portal before the online enrolment process.
Make an enquiry about this course
Your Enquiry is successfully sent